There are 13 good reasons why the Tyent UCE-13 is one of our bestselling models. Find out what they are right here!
Super-stylish looks
Smartphone touchscreen
Amazing filtration
Easy to install filters
360-degree water outlet
Next-generation technology
Alkaline and acidic water pre-sets
13 powerful plates
Eco Mode
Auto-fill quantity selector
Auto-cleaning mechanism
Upgraded drain faucet
Volume control, language settings…and lots more!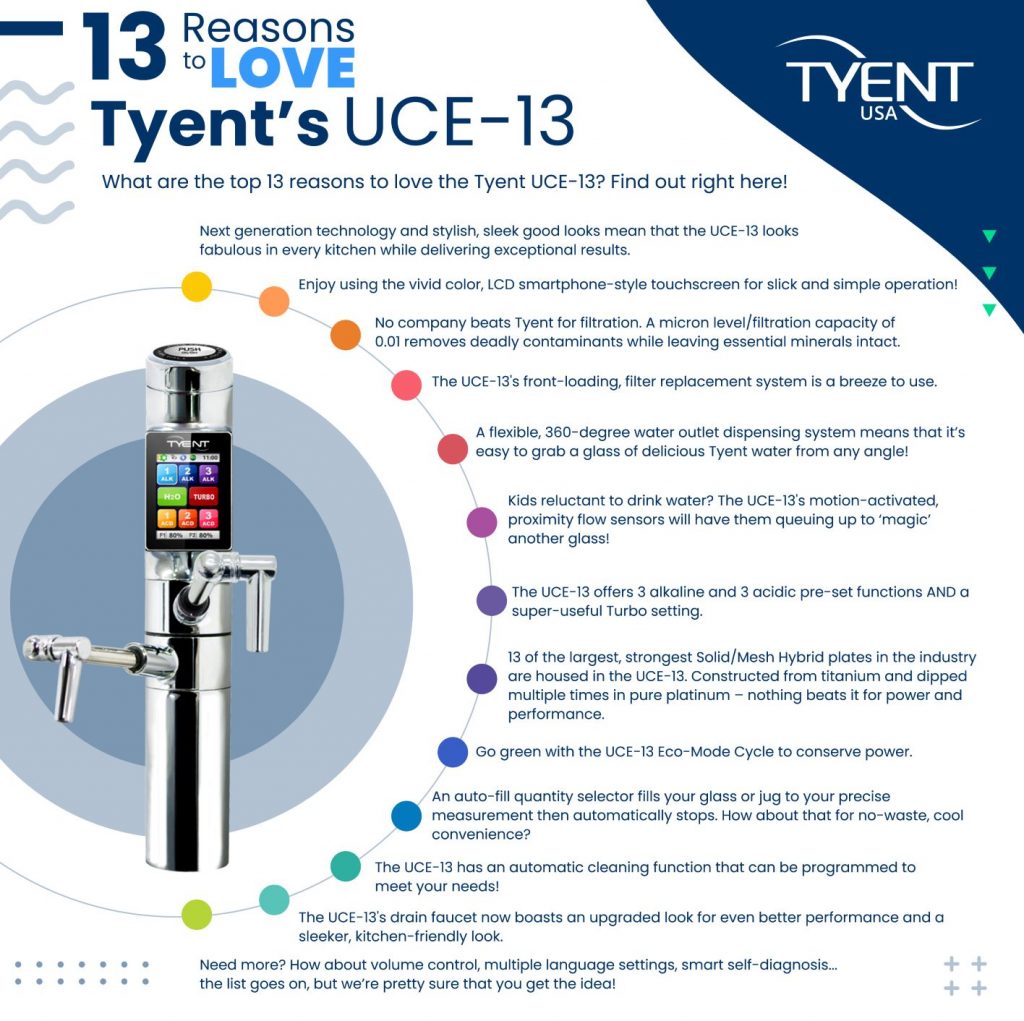 1. The way that a gadget looks in your kitchen matters. Every Tyent water ionizer comes with a Lifetime Guarantee, so let's face it – you'll be looking at your UCE-13 for a long time! Perfect for smaller kitchens or minimalists, this under-counter model packs everything you need. Our designers and engineers combine the most advanced technology in the industry with incredibly stylish looks, so that your machine always looks fabulous while delivering exceptional results.
2. The UCE-13 also features a vivid color, LCD smartphone-style touchscreen so that operation is slick and simple – no clunky, outdated plastic buttons here!
3. No water ionizer beats the UCE-13 for filtration power. The UCE-13 contains a sophisticated membrane multi-layer, dual filtration system. Inside the machine, TM-Ceramic and Carbon Block Filtration with a micron level/filtration capacity of 0.01 removes deadly contaminants while leaving essential minerals in the water intact and bioavailable.
4. Still with those filters, changing your old filters for new ones is a breeze. The UCE-13 has a front-loading, easy filter replacement system that everyone can manage with ease.
5. The UCE-13's flexible, 360-degree water outlet dispensing system means that it's even easier to pour yourself a glass of delicious Tyent water!
6. The UCE-13 boasts next-generation technology including motion-activated, proximity flow sensors. Got kids who are reluctant to drink water? This makes it so fun that they can't resist it!
7. The UCE-13 offers 3 alkaline and 3 acidic pre-set functions, a pH range of 1.7 – 12.5 AND a Turbo setting to help you clean your home and tone your skin along with lots more life-hack functions!
8. The clue to the UCE-13's power is in its name. This amazing machine contains 13 of the largest, strongest Solid/Mesh Hybrid plates in the industry. Each one is constructed from titanium and dipped multiple times in pure platinum for ultra-powerful ionization and performance, capable of producing up to -1150 ORP.
9. We never forget our green responsibilities – the UCE-13 features an Eco-Mode Cycle to conserve power.
10. Ever used an auto-fill quantity selector before? You can with a UCE-13! Program the size of your favorite glass or water jug and wait for it to be filled to your precise measurement then automatically stop once it reaches the programmed level. No waste, ultimate convenience!
11. Here's some more excellent news: the UCE-13 has an automatic cleaning function that can be customized for perfect results, based on your water usage and source water. It's even possible to program your water ionizer to clean automatically every day at a preset time.
12. We're always looking for ways to improve even further and the UCE-13's drain faucet has had a fabulous upgrade for even better performance and a sleeker, kitchen-friendly look.
13. At this point, it's obvious that there are LOTS more than just 13 reasons to love the UCE-13! Maybe we need a sequel to this blog: 13 MORE Reasons to Love the UCE-13! Then we can include volume control, multiple language settings, smart self-diagnosis and the many other features that we know you'll love!
This is the Right Time to Buy a UCE-13 Water Ionizer!
Right now is the perfect time to treat yourself or someone you love to the UCE-13 water ionizer. Call up our Customer Team today and ask about our amazing deals with up to $1600 of FREE gifts with every water ionizer!