Dr. Lori Shemek is back again to share some healthy and delicious Thanksgiving recipes.  Dr. Lori is the best-selling author of books such as The Ketogenic Key, Fire Up Your Fat Burn and Beginner's Guide to Intermittent Fasting.  Dr. Lori is a certified nutritional consultant and weight loss expert who spreads awareness of the negative effects of inflammation.  
Thanksgiving is truly a time for all of us to not only give thanks but to enjoy delicious foods as well.  This special day also heralds in the special holiday season of celebration.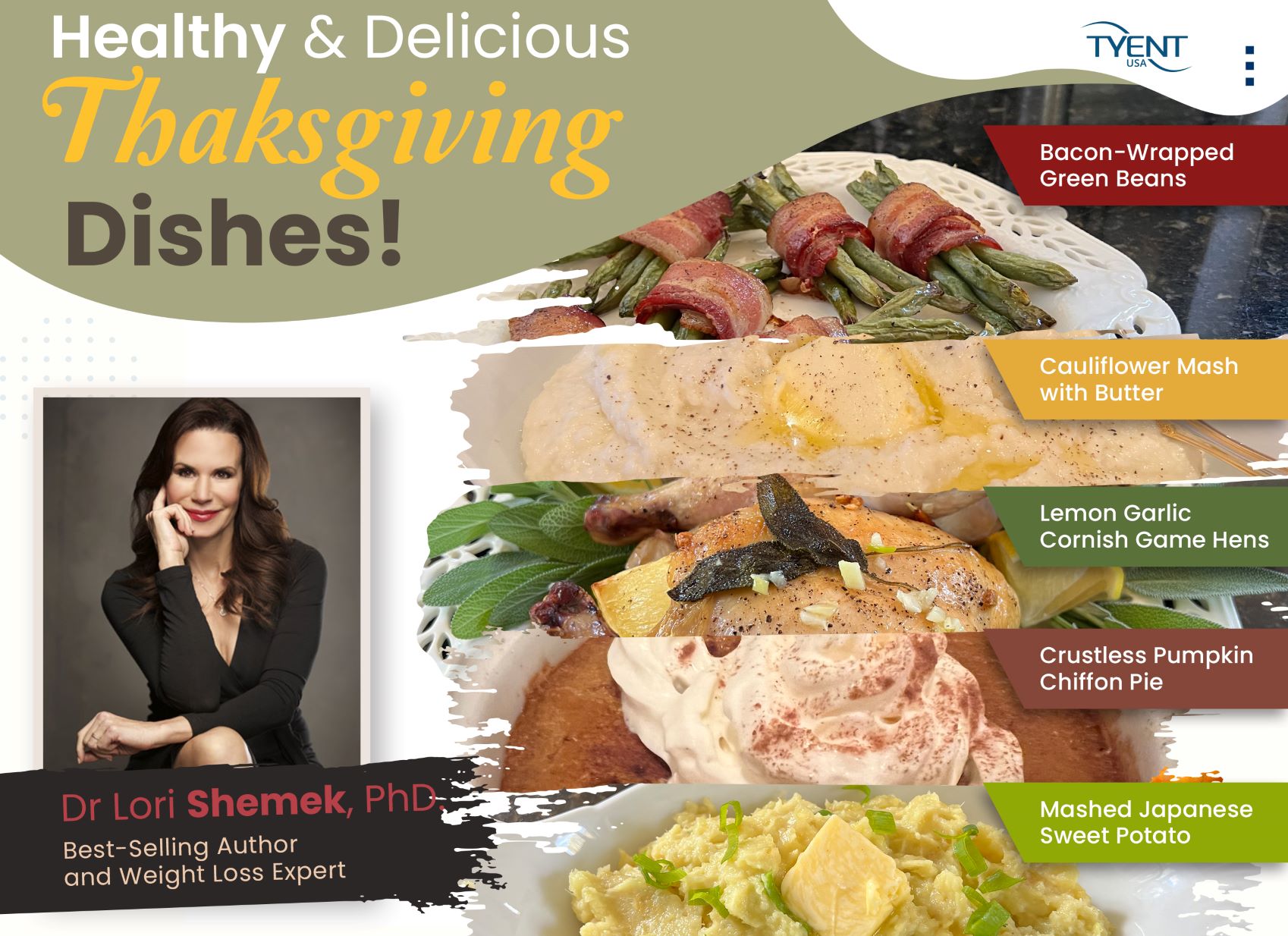 Knowing exactly how to combine the most flavorful holiday foods will allow you to enjoy your meal; guilt-free!  So, this year, why not avoid the food coma by swapping out your favorite Thanksgiving classics with some healthy and a few unique Thanksgiving recipes?  Enjoy a lower carbohydrate, healthful holiday while keeping it simple, keeping weight down, and health goals on target. Healthy, flavorful foods that won't stick to your waistline.
Here are simple, easy and healthy Thanksgiving recipes to gobble up for this memorable Thanksgiving Day!
Bacon-Wrapped Green Beans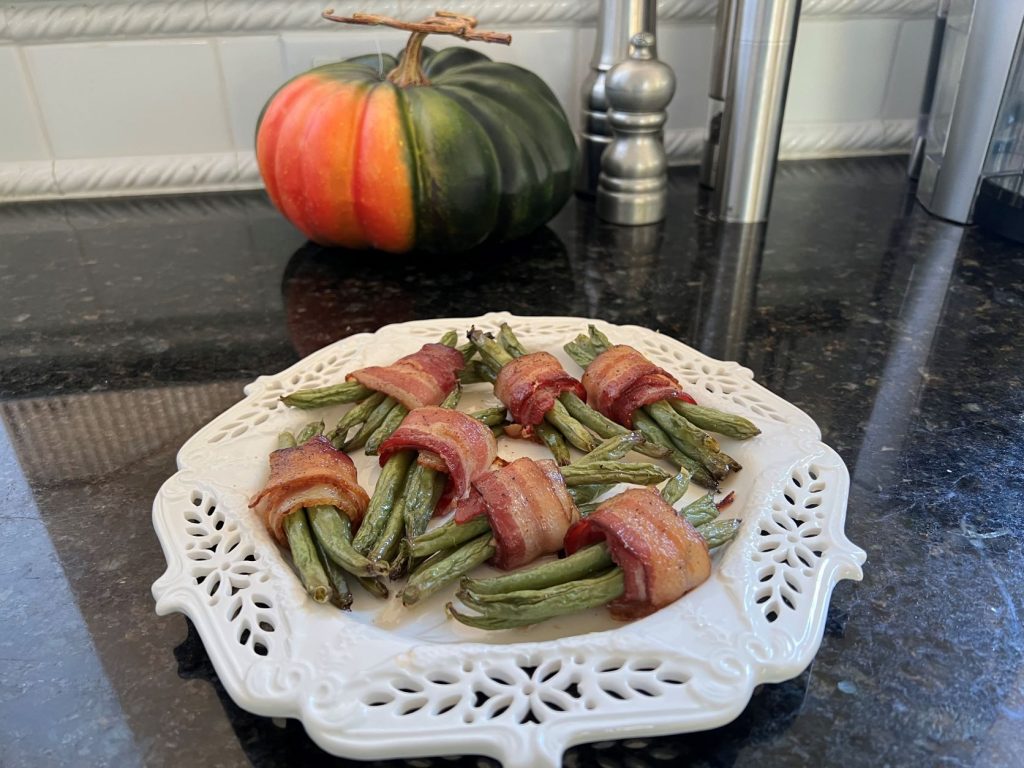 Ingredients
1 pound fresh green beans, trimmed
1 pound bacon
Instructions
Pre-heat oven to 375° F.
Place bacon slices on a cutting board. Cut the bacon strips in half.
Bundle 5-6 green beans together. Wrap a piece of bacon whole or halved.
Make bundles and place in a large baking dish.
Bake uncovered for 12-15 minutes or until the bacon gets a little crispy.
Creamy Buttery Mashed Cauliflower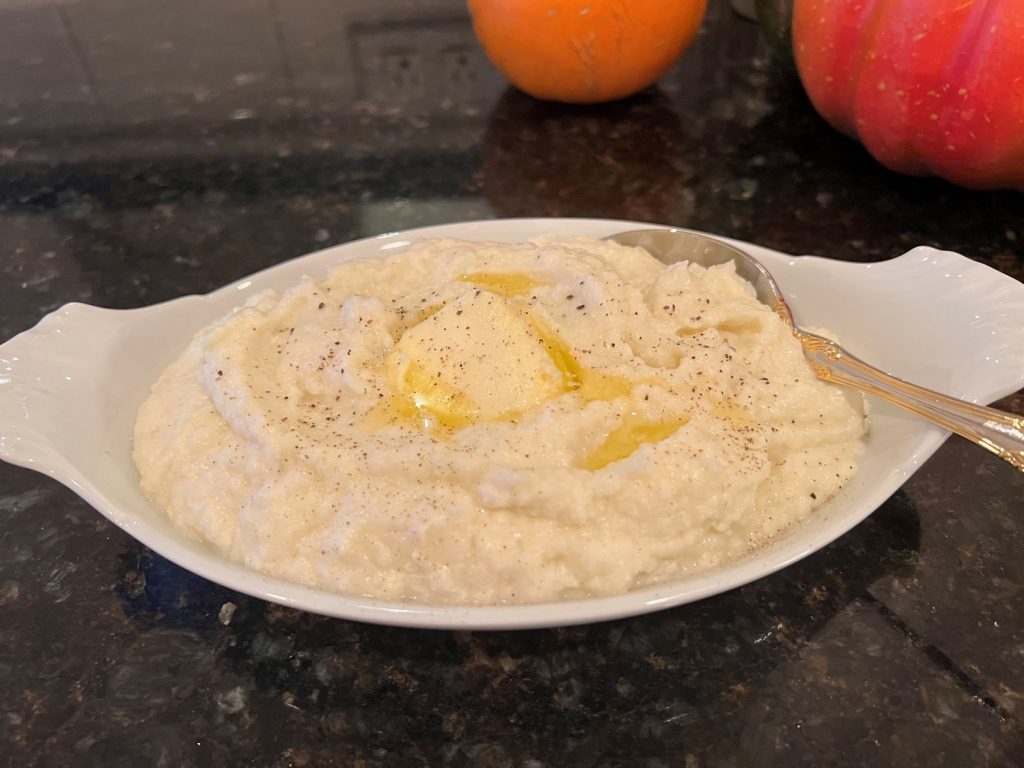 Ingredients
1 large head cauliflower cut into florets
4 tablespoons butter
3 tablespoons sour cream
2 cloves garlic, finely chopped
¼ cup parmesan cheese
Salt and pepper to taste
 Instructions
Place florets in boiling water.
Boil florets until they become soft – fork tender – about 15 minutes.
Remove and drain.
Add florets back to the pot.
Add all ingredients to the pot and with a blender stick (or a blender/food processor) blend until creamy and smooth.
Season with salt and pepper.
Mashed Japanese Sweet Potato (A Unique Twist)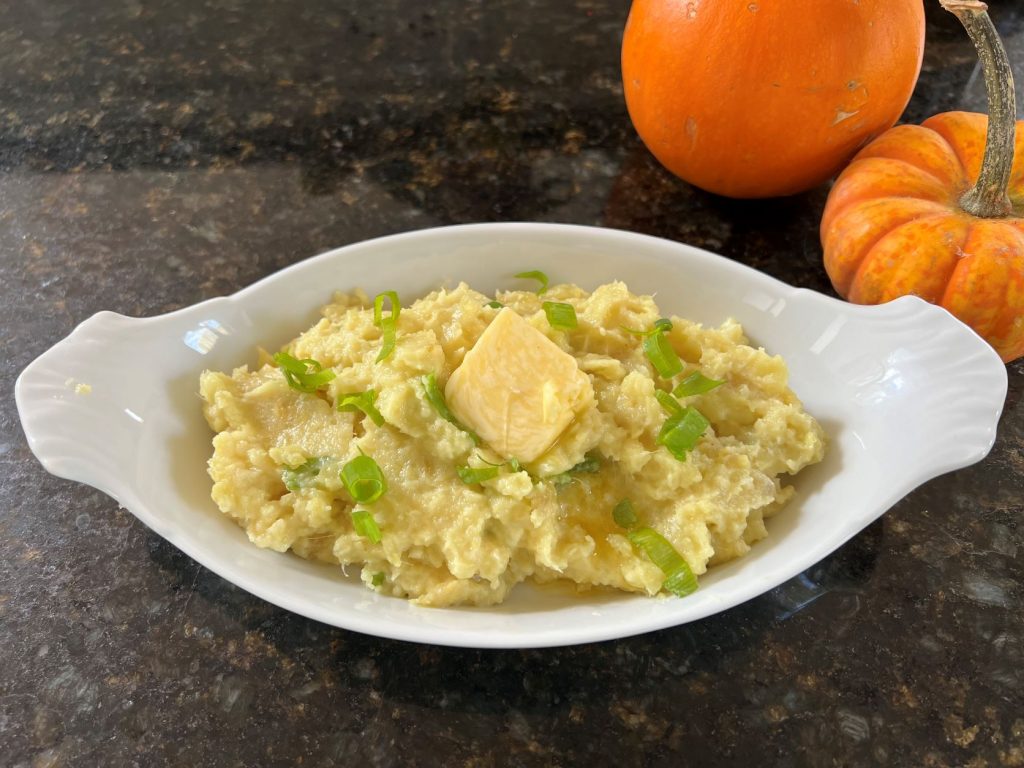 The Japanese sweet potato is considered one of the healthiest foods available. This is a unique option in place of the traditional sweet potato.
Ingredients
4 purple Japanese sweet potatoes
2 tablespoons sour cream
4 tablespoons butter
2 green onions, finely chopped
Salt and pepper
Instructions
Roast sweet potatoes (until flesh is soft) for 40-45 minutes.
In a medium bowl, scoop out the flesh from potatoes.
While hot, add all ingredients and mix until well-blended.
Holiday Lemon-Garlic Cornish Game Hens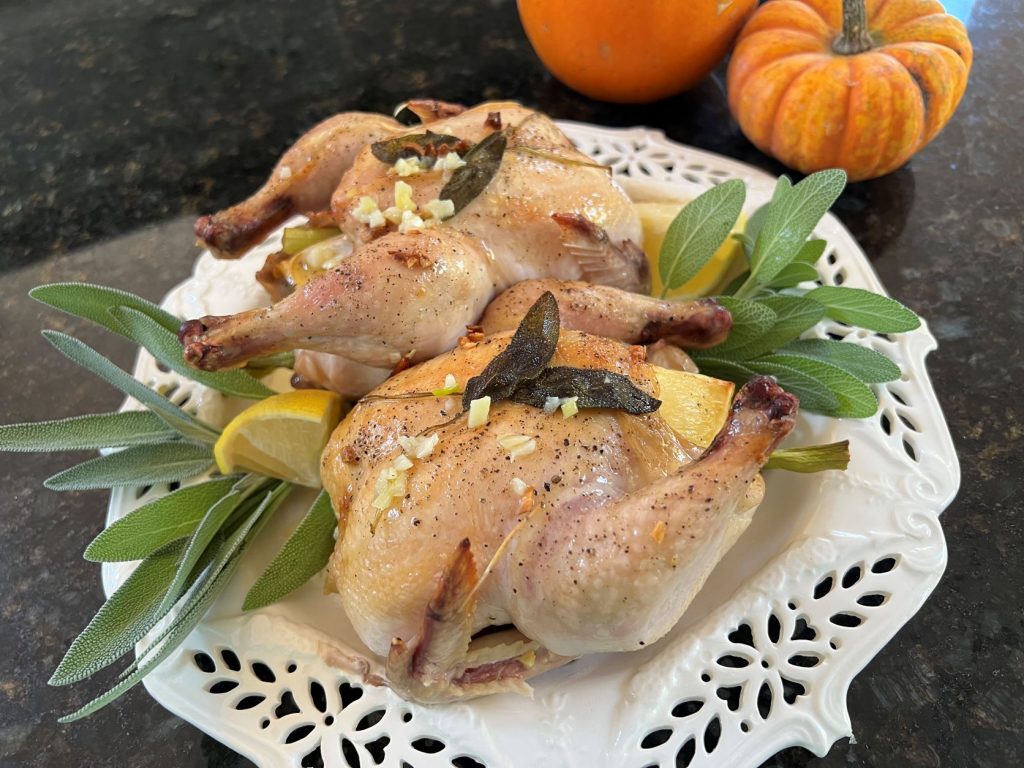 Ingredients
4 Cornish game hens, rinsed and patted dry
Fresh Sage or herbs of choice for stuffing
2 green onions, halved
2 lemons, quartered
1 stick butter, melted
4 cloves garlic, finely chopped
Salt and pepper
Instructions
Pre-heat oven to 420 degrees F.
Spray baking dish with cooking spray.
Place hens in the baking dish and baste with melted garlic butter.
Reserve remaining garlic butter for basting during cooking.
Stuff hens with 2 lemon quarters, green onions and herbs.
Salt and pepper hens.
Roast hens for 40 minutes and golden brown. Baste with butter intermittently while roasting.
Garnish with fresh herb sprigs and lemon quarters.
Decadent Crustless Low Carb Pumpkin Chiffon Pie
Ingredients
1 can pumpkin puree (not pumpkin pie filling)
3 large eggs
3 tablespoons monk fruit sweetener or swerve
½ teaspoon sea salt
1 teaspoon cinnamon
1 ½ teaspoons pumpkin pie spice
¾ cup heavy cream
Whipped cream for topping
Instructions
Pre-heat oven to 350 degrees F.
Mix all ingredients together.
Pour into a well-sprayed individual baking crock or one pie pan.
Bake 30-40 minutes or until a toothpick comes out clean.
Garnish with whipped cream.
Wishing you and your family a happy and healthy Thanksgiving!
Recommended Reading | Dr. Lori's Vault