As a nutritionist, bestselling author and recognized leading authority on health and weight loss, Dr. Lori Shemek has carved an indelible name for herself on the health and wellness landscape.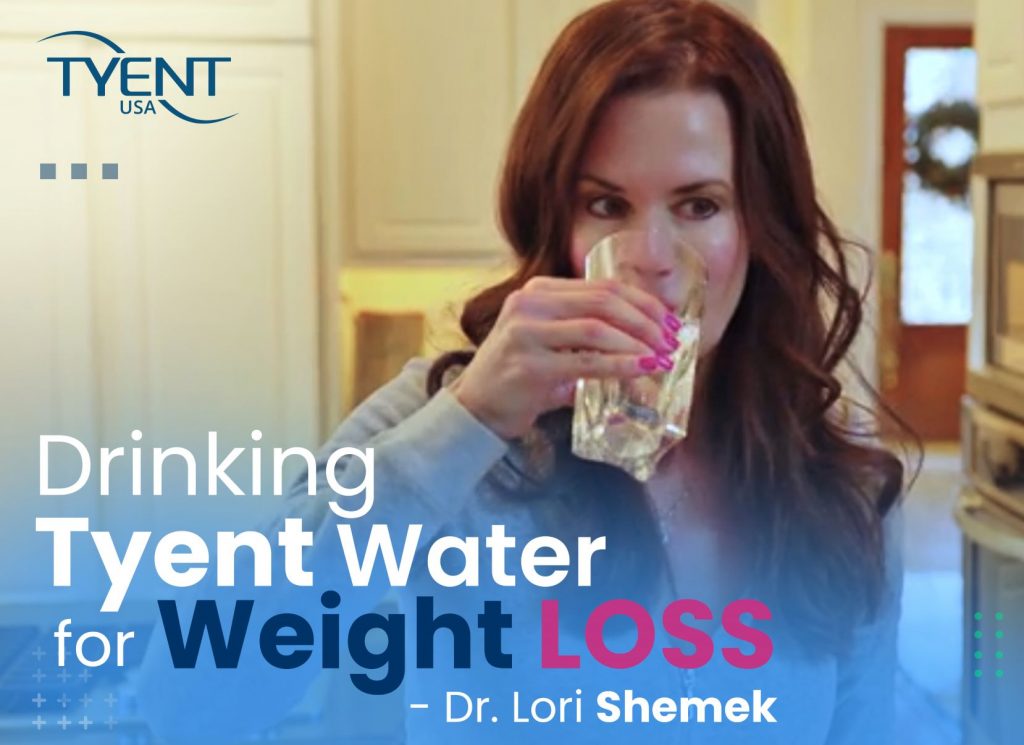 The Link Between Inflammation and Weight Gain
With a PhD background in psychology, Dr. Lori is also a Certified Nutritional Consultant and a Certified Life Coach. Combining all these qualifications and professional experiences means that she is perfectly placed to identify the root causes of weight gain, understand her clients' struggles with maintaining a healthy weight, and ultimately give them the tools they need to succeed.
Making the Switch to Healthful Living
Also known as "The Inflammation Terminator," no one knows better than Dr. Lori how inflammation affects weight loss. Many popular foods and lifestyle choices can be toxic. Eating the wrong foods can inflame fat cells, leading to weight gain and compromised health.
Switching to making the right dietary choices can mean optimized health, reduced risk of diet-linked disease, and the easiest weight loss of your life.
Why Dr. Lori Recommends Tyent Water
Dr. Lori cites Tyent ionized alkaline water as a key component in helping to reduce and even reverse cellular inflammation. In turn, this has a positive metabolic effect on fat cells, in terms of weight loss.
"What better way to motivate yourself than knowing that with every glass, every sip of Tyent alkalized ionized water, that you are losing weight?"

Lori Shemek, PhD, CNC, CLC
Hydrogen in the Water
"But Dr. Lori," you might ask, "do I have to drink Tyent ionized alkaline water only? What about other ionized alkaline water options out there?"
Here's the truth of the matter: ionizers aren't created equally. Some companies use chemicals to raise the pH of their water, while others manufacture models with less than stellar plates to be effective. More importantly, not every ionizer is capable of producing molecular hydrogen.
The presence of molecular hydrogen is a major reason behind the multiple health benefits of Tyent alkaline water, and many clinical studies point to its therapeutic potential. We're proud to say that all our customers get an abundance of this molecule each time they drink water that's fresh from their ionizers.
Want to learn more about the positive effect of hydrogen-rich Tyent alkaline water on your bodies and how it can kickstart your weight loss journey? We'll let the expert do the talking, so check out the video of Dr. Lori below.
One of the Top 10 Health and Wellness Influencers of Q1 2020
Regularly featured on popular shows and broadcasts including Oprah.com, NBC Today, Good Morning Texas, CNN, Time, The Ricki Lake Show, and Dr. Oz's Good Life Magazine, Dr. Lori has helped countless people achieve and maintain their goal weight by making the right tweaks to their lifestyle and diet.
Voted one of the Top 10 Health and Wellness Influencers in the first quarter of 2020, Dr. Lori's message is a simple one: be mindful and wise about what foods cause inflammation and cut them out of your diet. Make the right choices to fuel and energize your body, and drink Tyent ionized alkaline water to help to reduce cellular inflammation and support a healthful, energized state.
"I recommend Tyent Water to my friends, my family as well as my clients."
We're proud that Dr. Lori Shemek is a big fan of Tyent Water. It's great knowing that Dr. Lori recommends Tyent Water to her clients, so we can play a part in their journeys towards weight control, better health, and a more energetic lifestyle.
Let Us Find the Perfect Water Ionizer for YOU!
There are so many benefits to drinking Tyent ionized alkaline water – isn't it time you started enjoying them?
Make this summer your most refreshing yet! Call up our fabulous and friendly team at 855-TYENT-US () and ask about the amazing deals we have right now on our range of award-winning water ionizers!